Children and Konsta in Particular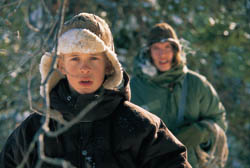 Casting in films for children and young people is dead serious. Depending on your choice, you will either get life into your movie or, in a worst case scenario, no maker what the director does he will have a flop on his hands.
When directing children, it is not a question of educated and experienced professionals but rather of amateurs who have to work in front of the camera and convey the same thoughts, emotions and actions as their highly educated colleagues.
Cast Konsta for the Main Part?
In this respect Tommy and the Wildcat was an easy case. Väinö had been chosen for the part of the wildcat before I took on the job. I discussed the role of Tommy with producer Hannu Tuomainen on our first visit to Ranua and he suggested Konsta. The boy had a lot of experience in performing, TV concerts, commercials, dubbing, etc. I had not met Konsta before although I had previously thought of asking him for screen tests. So we arranged a meeting and I got a good impression of the boy. Naturally, I did screen tests with other boys for the same pad but Konsta seemed the best of the lot. When we met for the second time, I made one more screen test and made my mind up. His sensitive face, good voice, experience in performing and the self - confidence that it ultimately brings counted. All in all, a very nice guy.
The Right Choice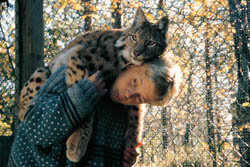 There was no doubt as to the right choice having been made when we started shooting. Konsta proved to be very talented and in every respect a nice person to work with and he seemed to develop as an actor day by day. In the beginning, I might have had to say a few times to him that don't just do what I tell you to do but also think what you're doing, use your head! But towards the end I never needed to say so. Konsta had figured out in advance how and what he would do. And then suggested it to the director. A true movie actor! Marvellous!
In addition, he has a healthy working morale, is relentless and has a great sense of humour. The favourite of the whole crew and especially of the women members and co - actors.
And without a doubt, it was a sight for sore eyes when Konsta sang "Sealed with a Kiss" in the karaoke bar of the hotel in Ranua on an autumn night.
I am happy and proud to have had the privilege to get to know Konsta and work with him
Raimo 0 Niemi
Director