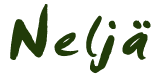 FOUR JOURNEYS ON THE RIVER
This documentary tells of the journey of the 99 kilometre long river. Vantaa from its source down to the Gulf of Finland, of the river's nature in different seasons and the relationship of man to the river and its environment.
The river is full of baffling contrasts. It flows through Finland's most urban area inhabited by 20% of the population. The everyday life of man and the wonders of the nature encounter each other continously.
The river is a challenge for peaceful co-existence. For most people, it is invisible and insignificant, until it invades their territory. And yet man influences the life of the river all the time. The battle against pollution seems endless.
It is also an aesthetic experience; the sounds, the light, the colours, the flora and the fauna change over the seasons. The cultural landscape changes into cultivated forest, thicket into primeval forest, countryside into village, village into town, at times it swells and floods beyond its boundaries, at times the river dries up into a meagre brook. Something small grows into something large, tiny brooks unite to create a huge entity.